Geeveston Community Survey
Every 3 years the Geeveston Community Centre Inc. (GCCI) develops a new Strategic Plan as part of its core funding agreement with the Department of Communities Tasmania. GGCI uses a community development approach for its engagement with the local community and our partners. Locally we are known as GeCo.
As part of developing the Geeveston Community Centre Strategic Plan (2021-2024), the Centre conducted a survey to help set the direction for the Centre and how it supports the local community.
The centre engaged an external consultant to develop the Strategic Plan, including delivering the community survey. The survey was
designed in consultation with GCCI staff members. The survey was open for 14 days in May 2021. Survey monkey was used to collect online responses and the survey link was promoted via the GCCI email list and a boosted post on our Facebook page (within the local geographic area). Hard copies were provided on the front desk, during Centre activities and at the Geeveston Feast (a monthly  community event). As an incentive, survey participants had the opportunity to register for 1 of 3 $50 voucher prizes. Of the 188 survey participants, 150 entered the competition.
Where do our Survey Respondents live?
Listed to the right are locations that 5% or more of participants listed as where they live. All most all participants live int he local area. 
How had respondents utilised GeCo in the last 12 months?
62% Follow Geeveston Community centre on social media
32% Drop into the centre
18% Buy fruit and veg via the Scrubby Hill Farm online shop
18% Participated in programs or groups e.g. driver training, literacy support, crafts group, eating with friends or community shed (for men and women)
15% Access services via the Centre
14% Participated in GCCI workshop/s
13% Shop at the GCCI Scrubby Hill Farm Market Garden weekly Pop Up market
10% Through volunteering
Other – for example participated in the school holiday program, hired space within the centre, and attend appointments for outreach services.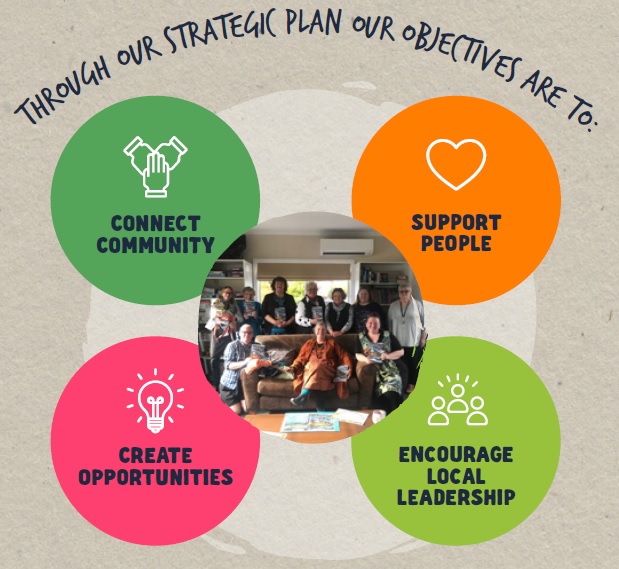 We asked how our community like to keep in touch with what is happening at Geeveston Community Centre.
Social media is the most popular way to keep in touch with what is happening at GCCI (63%) followed by our regular newsletter, email and dropping in.
What are the priority Health and Wellbeing  issues in our community?
We asked, When thinking about yourself, friends and family who live in the local area, what do you think are the important health and wellbeing issues? (Tick all that apply) We provided a list and an opportunity to suggest other issues. Here are the priority issues for our community.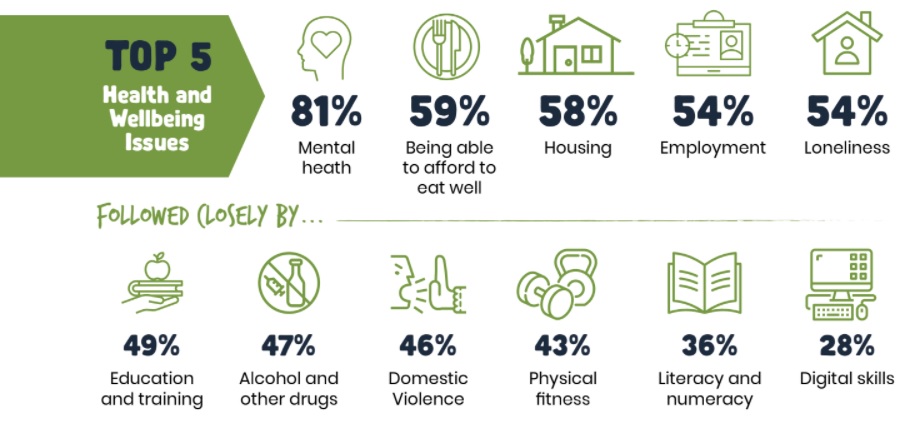 What is the best way for Geeveston Community centre to support the health and wellbeing of our community?
We asked about which programs and support the community would like to see Geeveston Community Centre focus on to support the health and wellbeing of people in the local area. Respondents could choose as many as they thought were important for us to prioritise.
Enhancing Connections: Creating community events so people can come together and enjoy themselves – 67%;
People connecting with each other – 66%
Supporting the community to build new skills: Building new skills such as cooking, growing food and using digital technology – 62%
Contributing towards community food security: Improving access to healthy affordable healthy food – 57%
Employment: Helping people to find work – 55%
Speaking up for community: Advocating to all levels of government on behalf of the community – 49%.
Followed closely by…
Creative activities such as music and arts – 47%
Improving literacy – 38%
Volunteering – 36%
Other – activities and programs for youth, after hours and weekend programs, health education, building skills, day trips, sexual health, skill development / artisan / craft activities/ workshops – after school hours that can involve parents and be fun, and are educational for kids; language classes (single responses for each), drug and alcohol services.
What else would you like to tell us?
For our final survey question, we wanted to give the community the opportunity to tell us about other issues or ideas that might be on their minds. We asked if there was something else survey participants would like to tell us. Around 25% of the community members who completed the survey shared some thoughts.
We thank the Geeveston community for participating in our Community Survey. It has been a very valuable experience for the Centre to check in with the community and to make sure our future Strategic Plan reflects their priorities and future needs as much as possible.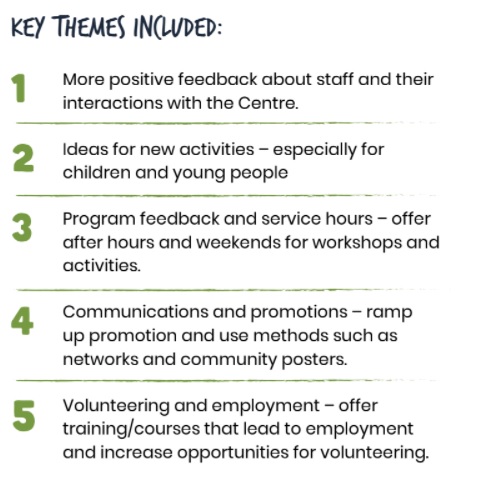 Who in our community completed the survey?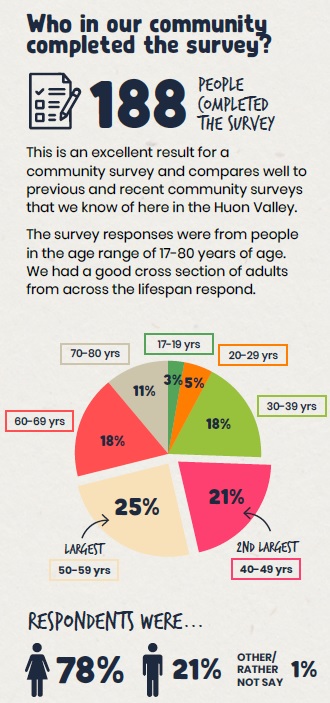 What does the community think of GCCI?
We took the opportunity in the survey to ask – how likely are you to recommend Geeveston Community Centre to family, friends and/or community members? The vast majority of survey participants said they are likely to recommend the Centre, a very positive result.
We then asked a follow up question to participants to tell us in a few words why they would recommend us to family, friends and/or community members. We analysed their feedback and have provided the themes for responses and several examples of each as follows…
Many respondents were incredibly positive about their interactions with staff and volunteers describing them as friendly, helpful, and caring.
"The volunteers are extremely kind, helpful, and attentive. Whatever concerns or questions you have, they will most likely be able to
answer for you. Also, the amenities on offer for those who might need them are amazing."
"Found the staff and volunteers genuinely have individuals and the community's best interest at heart."
"Great organisation. You welcomed my mum recently when she needed somewhere to work. A great supportive network for our community!"
Inclusive, community and connections
Many survey participants remarked that GCCI is inclusive and enhances community connections and support for people living in the local area.
"Because they cater for everyone. Men, women, and children. They have supported many people and are to be commended on the  ervices and support they offer. I have been a part of many things since 2000 not long after moving here. From craft, lead lighting, cooking and  also was a volunteer. These things I did and the things my children did was very helpful and beneficial and makes you as a community member inclusive and involved."
"Great way for the community to connect with others, get involved in programs, emergency relief and have social interaction.
"Community centres are the literal hub of a village. They are important crossroads of giving and receiving hope and help."
"Friendly, helpful, non-judgemental staff. Great programs on offer."
Courses, Services and Activities
Respondents viewed the Centre favourably because of the variety of opportunities to participate through workshops and activities or access services.
"They run great courses and are very helpful"
"They provide diverse programs and an opportunity to engage with others in the community"
"Geeveston community have done so much for the community doing things such as having the computers available for those who don't
have one and helping them become computer literate."
"Lots of services, friendly and helpful folk, Wi-Fi access, job seekers."
"The food bank is an amazing resource if people are doing it tuff."
"Friendly, helpful, non-judgemental staff. Great programs on offer."
"It's a friendly place space that supports our community on various levels. It helps with courses, activities, and mental health support."
Programs that relate to Eating with Friends meals, emergency relief, food growing, and the Scrubby Hill farm were especially remarked on by respondents as a reason for why they view GCCI favourably. 
"Provides excellent community services, especially the frozen meals and veggies."
"Great fruit & veg. Always willing to help anyone in need in the community."
"Local, friendly, efficient, and yummy food."
"Love the selection and goodness of the fruit and vegetables box and the convenience of delivery."
Geeveston Community Centre Strategic Plan
Developed from the Community Survey, May 2021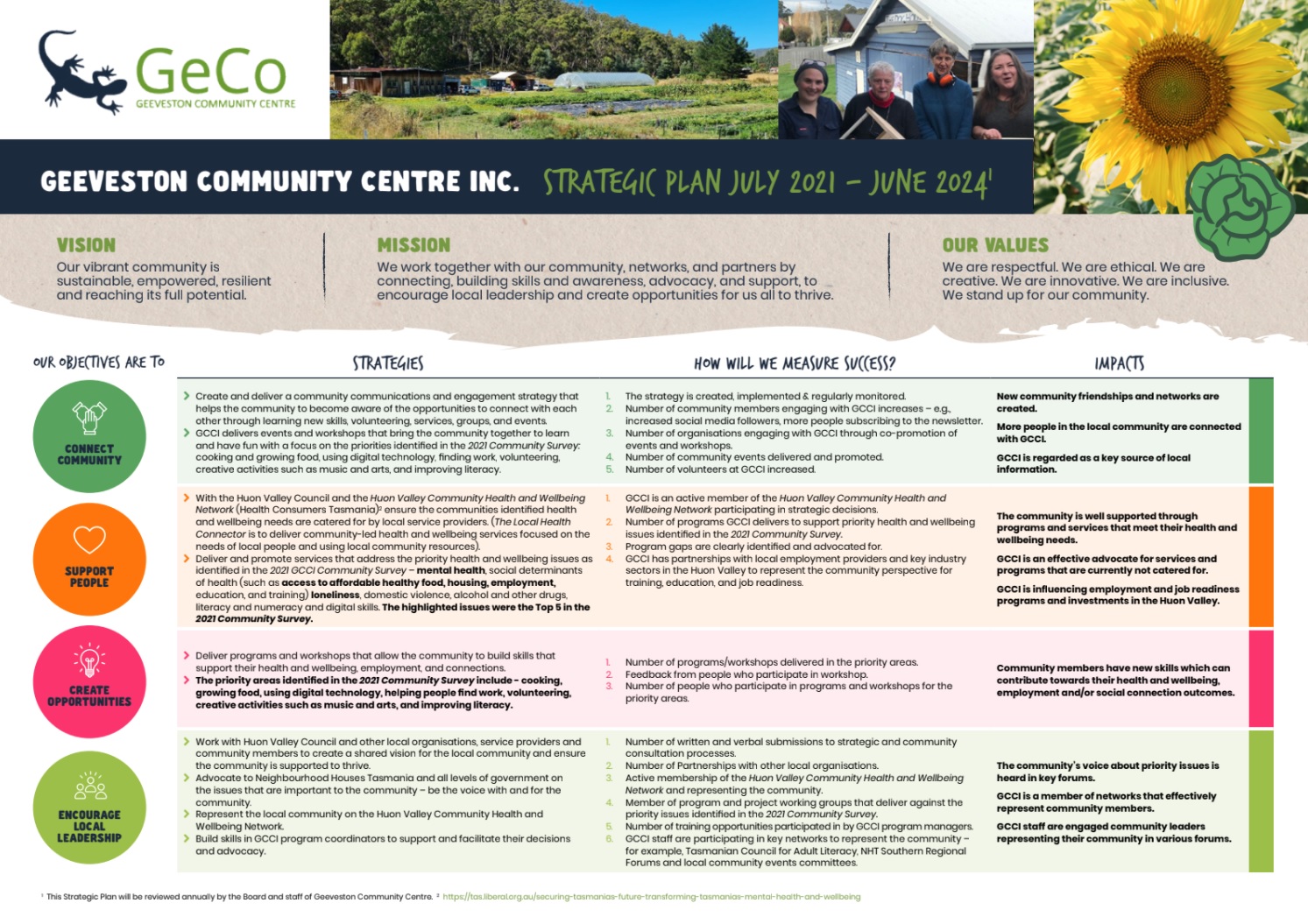 Other Activities and Services at GeCo
Subscribe to Our Newsletter
Stay in touch with us to get latest news and low-down on upcoming events!