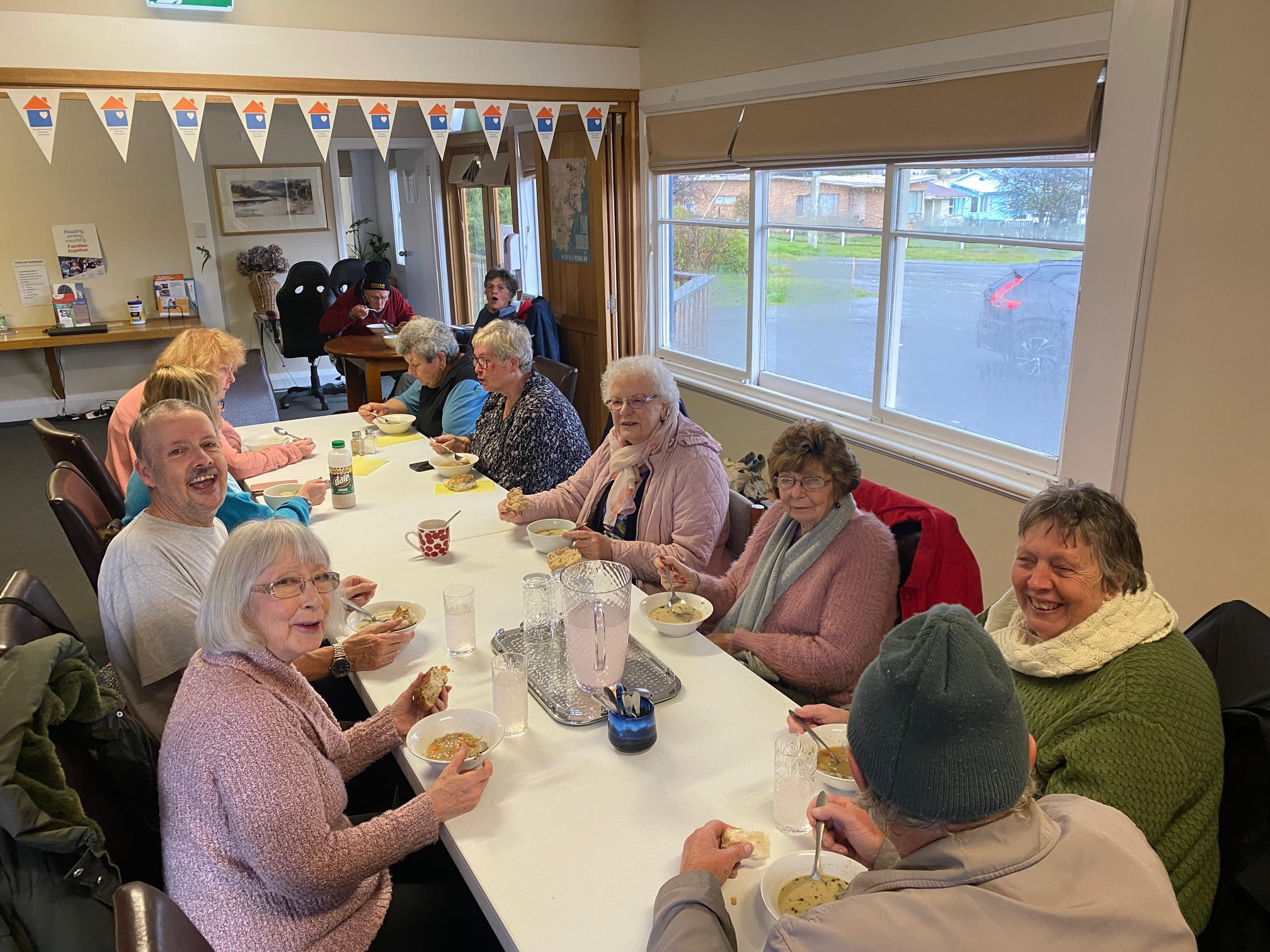 Community Members enjoying a free lunch at Soup with Soul; our Community Soup Programme that runs through Winter. 
So much on offer from social activities to work support
Welcome to GeCo, your neighbourhood house in Geeveston and surrounds.  You are welcome to drop in for a cuppa, some free bread or computer access. We have a wide range of activities and provide many services and referrals.
You might enjoy visiting the community garden or starting a project in the community workshop. You can chat with us about literacy support, or eat delicious food (Soup with Soul, pictured) and celebrate great company in our many and varied food-based events!
Perhaps you need help learning to drive? Our Jumpstart program has mentors ready to help you get a licence. All this plus so much more is available at GeCo.
"It's a great community. You can hang out with people. You can make friends and learn new things. It's a warm and friendly environment"
Social Activities
We offer a range of activities offering the perfect mix of social time combined with a hobby or interest.
Support Services
GeCo can help with a range of services from work and literacy support through to assistance such as NILS (No Interest Loans) and more.
Facilities
The House is open for your to drop in to access free internet, tea and coffee. We also have meeting rooms and a trailer available for hire. Check out our Co-Shop for locally produced veggies and fruit.
Drop-in or give us a call to find out more
There is always something happening at the house.
View our current calendar and come join us for an activity/service or why not just pop in when we are open and have a free cup of tea or coffee and meet the team?
Mon – Thurs: 8.30am  – 4.00pm
Friday: 8.30am – 3.00pm
As well as our wide range of social programs we also offer a range of support services to assist you.
Subscribe to Our Newsletter
Stay in touch with us to get latest news and low-down on upcoming events!