Growing food with & in our community
We began dreaming about a community market garden 7 years ago.
The idea emerged from research between Tasmania Medicare Local and Geeveston Community Centre and the feedback we got from the community is that food security, access to good food and better dietary habits were key concerns in our neighbourhood. We leased the land from Huon Valley Council and Scrubby Hill Farm was born in 2015.
Scrubby Hill is a 2-acre plot of land located in the town of Geeveston, around the corner from the community centre, growing a mix of broccoli, kale, leeks, carrots, garlic, chard, coriander, salad mix and a wide variety of vegetables throughout the year.
Many hands have created a special place
Initially Work for the Dole projects helped to set up the farm. Many hands have contributed to our producing beds! We've also received numerous grants for infrastructure, fencing, irrigation and to build a giant polytunnel. We've recently added a cool room and community hub. As with everything in the natural world, there has been an ebb and flow of life on the farm but we now have guaranteed funding for two years and are selling our produce at a range of places throughout southern Tasmania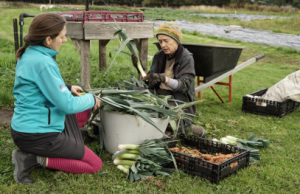 Our wonderful workforce is made up of Vanessa, Kerryn and Kylie, along with community members. If you have an interest in growing local, organic, seasonal food, we would love to have your help on the farm.
Other Activities and Services at GeCo
Subscribe to Our Newsletter
Stay in touch with us to get latest news and low-down on upcoming events!